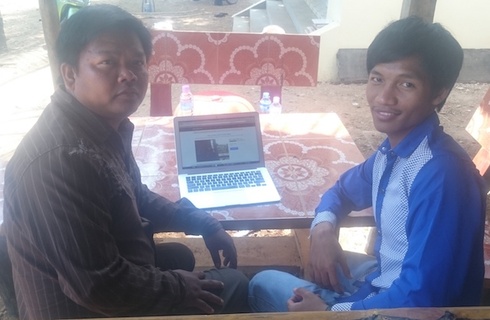 Update: Visiting Roun Village this Saturday
It's been a pretty incredible four or five days and, although we are grateful that the funds were raised so quickly, it hasn't stopped there for us and we are now busy with the important task of delivering.
Our third team member, Chhunly Bin (pictured right), is a young Cambodian man who was born in Banteay Meanchey province. Chhunly has been instrumental in the planning of this project from identifying the need to negotiating the many details that needed to be sorted out before we could even begin fundraising.
Chhunly will be making another trip to Roun Village this weekend - his fifth visit there for Well Directed - a trip of maybe 6 to 8 hours by bus from Phnom Penh and then a further hour by moto (scooter) or car. Chhunly will be meeting with the well contractor to finalize the location of the wells and any other last minute details with our partner for this project,
Wells for Wellbeing
, who Chhunly has worked closely with before. All of us at Well Directed are volunteers so I am grateful for Chhunly's knowledge, experience and time.
It's rainy season here in Cambodia so it's difficult to predict exact outcomes, but we are hoping that the contractor will be able to break ground on the wells as early as mid next week. Stay tuned for updates :-)