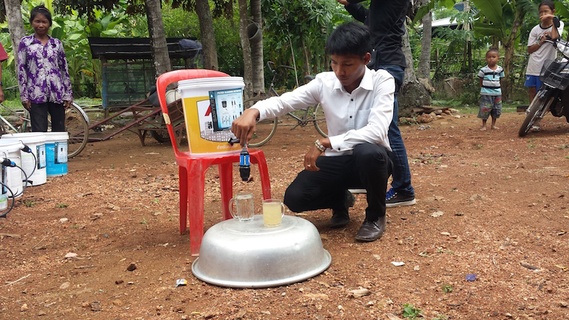 Water filters delivered to Soun Sla village!
We are very grateful to the donors who supported our project for buying 50 water filters for Soun Sla village where there are many poor families who are in need. I hope you will be happy when you know that the villagers now have clean drinking water. They were extremely delighted to receive the water filters from all of you. They said that from now on they will not be attacked by disease and infection anymore.
I went to Soun Sla with our partner Clear Cambodia to distribute the water filters to the village. Clear Cambodia were very happy that the donors supported this project and they would like to say thank you so much for helping this village who very much needed clean drinking water.
The villagers asked me to tell the donors about their happiness. They were extremely thrilled to receive their water filters, saying they had never had a water filter before. Samsun exclaimed, "How good water filters are! It is like magic when the raw water from the river, full of dirt comes out from filter looking very clean and transparent. I do love it."
All of the villagers and the village chief would like to wish all of the donors to be wealthy and successful.